When you think about Tokyo, you think about a futuristic city, neon lights, flying cars, cyborgs. It was after all the city that inspired the city design for Blade Runner.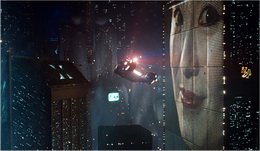 It makes sense that in such a chrome kingdom the counter culture - the fringe, the cool - is the rejection of that future and an embrace of all things retro: it's a hyper mythologised Americana. Leather biker jackets, Hawaiian shirts, 501's, college sweaters. I admit I got caught up in the madness of it all and picked up a teeny weeny cheerleader uniform that some poor Sally Sue lost her virginity in in the backseat of a Lincoln. Yikes.
Harajuku girls and boys know what's up. Harajuku is a playground for the hip and the less hip tween set. Beyond Takeshita Dori (the pedestrian street teeming with youth oriented fast fashion shops), you can find a variety of well stocked vintage and second-hand clothing stores.
Some recommendations (please comment if you'd like vague directions, I can't get my head around Japanese addresses) :
Kinji
- opposite La Foret - huge vintage shop, very very cheap for Tokyo vintage
Vivienne Westwood
secondhand store - off Takeshita Dori to the right as you walk down from Harajuku station - all vintage and secondhand VW. The shoes were to die for. They had a few pairs of pirate boots!
Chicago
- two locations in Harajuku - Super vintage store, great mens section, also an impressive selection of old kimonos from $20. Lots of tshirts, jackets, iron on patches.
Kind
- has a few branches over Japan - multi level mecca of second hand designer clothing. I bought a Balenciaga singlet for $60 and a Bernhard Wilhelm dress for $70.
Not in Harajuku but noteworthy:
Flea Market
- To be honest, the flea market I went to in Shinagawa was nothing exciting. But you could get lucky like me: I found an old man selling his wife's Salvatore Ferragamo flats for $35.
Komehyo
- Meiji Dori Shinjuku - Second hand luxury department store - This place blew my mind. Secondhand/grey market items (bags, shoes, clothes, jewellery), the kind of stuff you'd see at a great consignment store, with the kind of service and visual merchandising you'd expect from a high end department store. It's really a brilliant idea and a wonderful way to extend the life cycle of a high fashion product. I think it encourages people to buy quality goods that will last. Also, it's easy on the wallet! I picked up an Acne dress for $50 and spotted a Vivienne Westwood suit for $250 (WAY too small for me, what a fat shit).
I love shopping second hand. There's a sincerity to the vintage in Japan, it's kind of costume-y but fun and silly and cool in this context. And the second hand designer stores are just amazeballs. Take me back there!